faculty
20+ World Class Experts such as Dr. Ernest Chan, Dr. Thomas Starke, Dr. Euan Sinclair, Dr. Robert Kissell and more.
Connect with Faculty
epat faculty
Anil Yadav
PGDM from IIM Lucknow
B.Tech in Mechanical Engineering (IIT Kanpur)
Experience
Anil Yadav is a member of the algo strategy advisory team at iRage and is responsible for building and benchmarking strategies for the firm across various asset classes. Before iRage, Anil worked as an independent commodities trader managing a portfolio of metals and energy products.
After graduating with B.Tech in Mechanical Engineering, Anil has mastered the art of back-testing strategies across various asset classes through his real-life market experience. He has led the development of various scalable quantitative strategies over the last many years and also he led the HFT strategy development and was also part of firm-wide risk & compliance implementation for iRage.
Before being a commodities trader, Anil was part of the Private Equity Fund at The Chatterjee Group (TCG) and the Convertible Bond Research team at Lehman Brothers.
Anil has authored a paper "Term structure of Commodity prices" using the Kalman Filter model for the finance journal published by IIM Lucknow.
Hobbies
Avid Reader. He has read hundreds of books, and completes a half century of the same every year.
Dr. Ankur Sinha
PhD in Business Technology, Aalto University School of Business, Helsinki, Finland
B. Tech. in Mechanical Engineering, IIT Kanpur, India
Experience
Dr Ankur Sinha is the Associate Professor of Production & Quantitative Methods at India's leading B-school, IIM Ahmedabad, as well as the Chairperson for Placements, and the Co-chairperson for the Centre for Data Science and AI.
As a Board Member of the Centre for Innovation Incubation and Entrepreneurship (CIIE), he has evaluated and mentored several startups in the area of financial technology. His expertise is in Big Data: Financial text mining, Optimization: Bilevel programming, Non-linear optimization, Meta-heuristics; as well as Business Intelligence: Data analysis, decision making, and optimization.
Dr Sinha is an expert in the fields of Big Data and Business Intelligence and has a rich professional career of more than 10 years as a faculty in the world of finance. He is a prodigious speaker in various fintech-related programs and forums and has multiple Finance research publications to his name. Along with teaching and research, he actively engages in consulting and training private and government organizations on technology innovations, analytics, operations management and service design.
He received the best paper award at IEEE World Congress in 2018, in Brazil; as well as the early career research award from the Science and Engineering Research Board of the Department of Science and Technology, India.
He received the best PhD thesis award for the year 2011 at Aalto University School of Business, Helsinki, Finland. He is the recipient of a graduate school fellowship from the Finland graduate school; and has received the outstanding Bachelor's project award at IIT Kanpur, India.
Hobbies
Ashutosh Dave
Masters in Statistics with distinction from the London School of Economics (LSE)
Certified FRM (GARP)
Experience
Ashutosh Dave has more than a decade of experience in the area of financial derivatives trading and quant finance. Apart from contributing to the overall content development at QuantInsti, he teaches Python in our flagship programme EPAT.
Currently, he leads a team of quants in a prop trading firm engaged in alpha research and strategy development. Previously, he worked as a derivatives trader specialising in trading interest rates and commodities with a proprietary trading firm in London for several years before joining QuantInsti. His key areas of interest include applying advanced data science and machine learning techniques to financial data.
Ashutosh holds a Master's in Statistics with distinction from the London School of Economics (LSE) and is a Certified FRM (GARP). He is the co-author of the book, "A rough-and-ready guide to algorithmic trading (2020)".
Hobbies
Brian Christopher
Chartered Financial Analyst (CFA)
B.Sc. in Economics, Northeastern University, Boston, Massachusetts
Experience
An avid quantitative researcher & Python developer, Brian is the Founder of Blackarbs LLC, a quantitative research firm based in Denver, United States. Brian conducts sessions on using Gaussian mixture models and helps you understand prediction accuracy. He also covers various Python packages for the quantitative analysis of statistically oriented strategies.
Before Blackarbs, Brian worked as an Equity Trader at Chimera Securities - Proprietary Trading and as an Analyst with the Thomson Reuters Group of companies.
Hobbies
Weight training, Hiking, History reading
Dr. Ernest P. Chan
MS & PhD in Theoretical Physics, Cornell University
B.Sc. from University of Toronto
Experience
Dr Ernest Chan (Ernie) is the founder and CEO of Predictnow.ai, a machine learning SaaS. He started his career as a machine learning researcher at IBM's T.J. Watson Research Center's Human Language Technologies group, which produced some of the best-known quant fund managers. He later joined Morgan Stanley's Data Mining and Artificial Intelligence group.
Ernie is the founder and non-executive chairman of QTS Capital Management, a quantitative CPO/CTA. He was an Adjunct Associate Professor of Finance at Nanyang Technological University in Singapore, and an adjunct faculty at Northwestern University's Masters in Data Science program. He is a valuable faculty member at QuantInsti, and he has his academic distributions available on Quantra and major web portals.
Dr Chan has written three books: Quantitative Trading: How to Build Your Own Algorithmic Trading Business (2nd Edition), Algorithmic Trading: Winning Strategies and Their Rationale, and Machine Trading: Deploying Computer Algorithms To Conquer the Markets. All of them are published by Wiley.
He obtained his PhD in Physics from Cornell University and his B.Sc. in Physics from the University of Toronto.
Hobbies
Travelling & Volunteering.
Dr. Euan Sinclair
Doctor of Philosophy in quantum chaos from University of Bristol
Experience
Dr Euan Sinclair is a trader at Bluefin Capital Management, a multi-asset proprietary trading firm. Before that, he was the co-founder and CEO of FactorWave, Inc a fintech company, and a managing partner at Talton Capital Management, a volatility hedge fund.
Dr Sinclair is an industry expert on stock options, interest rate products, volatility products, index options and commodity options, both exchange-traded and OTC. He specializes in the design, implementation and risk management of quantitative trading strategies.
He takes up lectures on Options Trading Strategies inclusive of Greeks, Heuristic option pricing: BSM and trees, Implied Volatility and more. He is an options trader with twenty-seven years of professional trading experience and has worked with various trading firms like Bluefin Trading, Hull Tactical, Medway Capital Management, Trading Solutions Ltd, and The Helios Group.
Dr Sinclair has written three books: Options Trading, Volatility Trading and Positional Option Trading. He is a member of the editorial board of the Journal of Investment Strategies, a publication of Risk Journals.
Hobbies
Travelling and a pet lover.
DR. Gaurav Raizada
Doctor of Philosophy in Financial Econometrics, IIT Bombay - Shailesh J. Mehta School of Management
PGDM, IIM Lucknow
B.Tech, Chemical Engineering, IIT Kanpur
Experience
Dr Gaurav Raizada is the Chief Investment Officer for iRage Master Trust Investment Managers LLP. Before iRage, Gaurav worked with Axis Bank as a Forex-Interest Rates Derivatives Trader.
He leads the quantitative trading development at iRage along with the overall clientele business. He also leads the Systems, Performance, and Strategy Development including trading systems development, latency reduction & optimization.
Gaurav's subject matter expertise on execution strategies and different methodologies of evaluating portfolio and strategy performance makes him a passionate speaker on the same. He teaches the participants to learn how to manage a portfolio and options instruments. He has a keen interest and can talk elaborately on the Market Microstructure and High-Frequency Trading Strategies.
Gaurav's paper on Trading Durations and Realized Volatilities was acknowledged at the 46th Annual Meeting of the Decision Sciences Institute, Seattle, WA, USA. His paper on 'Commodity futures market efficiency in India and its effect on inflation was acclaimed by Social Science Research Network (SSRN).
Hobbies
Dr. Hui Liu
PhD from University of Virginia
MS from Tsinghua University
MBA, Indiana University
Experience
Dr Hui Liu is an expert in programming for financial markets & related tools. At EPAT, he helps the participants to learn and implement equity trading strategies by using algorithms.
He is the founder of Running River Investments LLC, which is a private hedge fund that specializes in the development & implementation of various automated trading strategies. Worked in many world 500 companies, and he led the teams to build restful systems using various languages including Python.
He is the author of "IBridgePy.com". Dr Hui Liu is a Certified Six Sigma Black Belt practitioner and has been awarded by the Chinese Govt with the "Chinese Government Award for Outstanding Self-financed Students Abroad".
Hobbies
Soccer, Ping Pong and Hiking
Ishan Shah
PGDBM, Sydenham Institute of Management
B.E, Information Technology, D J Sanghvi College of Engineering
Experience
Ishan leads the research and content team at Quantra. Before that, he worked with Barclays in the Global Markets team and with Bank of America Merrill Lynch. He is an expert in statistical arbitrage trading and systematic options trading. He has a rich experience in financial markets spanning various asset classes in different roles.
He has co-authored a book on Machine Learning for Trading and loves to write blog posts on machine learning, reinforcement learning, and quantitative trading strategies.
Ishan teaches participants how to model data, formulate the rules for trading, and how one can use statistics to trade systematically, in QuantInsti's flagship Executive Programme in Algorithmic Trading (EPAT). Strategies on pair trading is another area of his expertise and he brings to the course an elaborate introduction to pair trading strategy modelling.
Hobbies
Politics, Volleyball, Trekking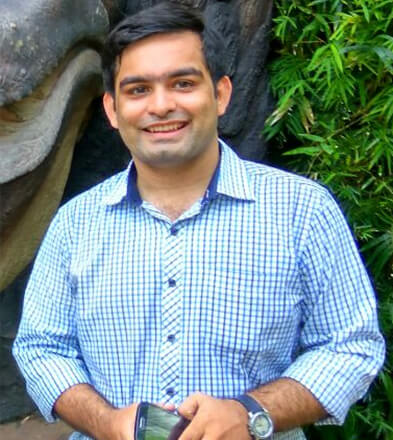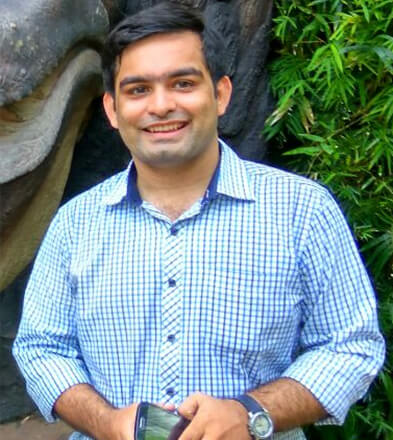 Jay Parmar
Bachelors in Computer Science
Experience
Jay Parmar works as an Associate, Content & Research at QuantInsti and comes with several years of experience in the BFSI industry. He is actively engaged in content development for quant finance courses and mentors EPAT participants across the globe.
He is the co-author of the book, "Python Basics: With illustrations from the financial markets (2019)". He is passionate about algo trading and programming and enjoys developing automated trading systems. He holds a Bachelor's in Computer Science and an EPAT Certificate. His research interests are in applying machine learning models to various facets of trading.
Hobbies
Nitesh Khandelwal
PGDM, IIM Lucknow
B.Tech, Electrical Engineering, IIT Kanpur
Experience
Nitesh Khandelwal is presently the CEO of QuantInsti, an institute that he co-founded in 2010 as part of iRage.
Nitesh graduated from IIT Kanpur with a degree in Electrical Engineering and a postgraduate degree in Management from IIM Lucknow. Nitesh began his career in the banking sector and later became a lead trader in a proprietary trading firm. He co-founded iRage in 2009 and oversaw its growth to become one of India's leading players in the Algorithmic Trading space.
Nitesh's vision for QuantInsti is for individuals to grow in the algorithmic & quantitative trading domain through its unique learning & financial application-based ecosystem for individuals, and also help businesses & institutions grow through its SaaS platform offerings.
Nitesh has accorded lectures/workshops for several South & South East Asian exchanges, including the Singapore Exchange (SGX), the Stock Exchange of Thailand (SET), and the Bursa Malaysia. He has given guest lectures to students at NUS Singapore, NTU Singapore, IIT Delhi, IIT Kanpur and IIM Ahmedabad. He has also authored various media articles & appeared on popular podcasts and webinars.
Hobbies
Nitin Aggarwal
PGDM, IIM Calcutta
Master of Science (MS), Chemical Engineering, New Jersey Institute of Technology
B.Tech, Chemical Engineering, IIT Roorkee
Experience
Nitin Aggarwal is the Co-founder of Alphom Advisory, which focuses on High-Frequency Trading Strategies. He was also one of the early members of iRage's Options Market-Making team. At EPAT, Nitin delivers an in-depth understanding of Statistics, Econometrics & Options. He covers various aspects of volatility estimation, statistical parameter formulation, etc. in his sessions.
Before that, he worked with Aditya Birla Group as a Leadership Associate in India & with Exelus Inc. in New Jersey, United States. He has also written articles for international journals, including the one depicting the development of the Swamee-Aggarwal equation.
Hobbies
Prodipta Ghosh
PGDM, IIM Lucknow
B.E., Mechanical Engineering, Jadavpur University
Experience
Prodipta is a seasoned quant and currently leads the Fin-tech products and platforms development at QuantInsti.
Prodipta is an expert in R, Python and Quantitative Trading Techniques. He has a knack for everything quant & has been able to meet complex theory with practice. At EPAT, he delivers sessions on programming concepts & relating financial computing with financial markets. He has conducted lectures/workshops for various institutes/corporates across South East Asia including Kenanga, Malaysia and NTU, Singapore.
He has spent more than a decade in the banking industry – in various roles across trading and structuring desks for Deutsche Bank in Mumbai & London, and as a corporate banker with Standard Chartered Bank. Before that, Prodipta worked as a scientist in India's Defence Research & Development Organization (DRDO).
Hobbies
Prodipta is an avid reader. He also contributes to the quant community through his blogs & R/Python packages whenever he gets some time out.
Radha Krishna Pendyala
Master's in Financial Engineering from the City University of New York.
Experience
Radha works as a Data Scientist at Refinitiv, an LSEG (London Stock Exchange Group) business. His work involves applying machine learning and quantitative financial modelling techniques to large datasets to solve specific problems in the financial and risk domain. Before Refinitiv, he worked as a portfolio manager and as an ETF market dealer at Goldman Sachs Asset Management.
Radha has done a Master's in Financial Engineering from the City University of New York. He has more than 20 years of experience in building financial and statistical models. He has also conducted algorithmic trading seminars and Machine Learning workshops across Asia.
Hobbies
Rajib Ranjan Borah
PGDM, IIM Calcutta
Bachelors in Computer Engineering, NIT, Surathkal
Experience
Rajib leads the prop trading business for iRage as its CEO and Co-founder, focusing on strategy development, risk management, and internal processes. iRage manages potentially the broadest option portfolio book in India, being one of India's leading High-Frequency Trading firms.
Before iRage, he had experience in quant research (Bloomberg, NY); high-frequency trading (Optiver, Amsterdam); data analytics technology (Oracle); business strategy for an investment firm & derivatives exchanges (PwC).
Rajib has an in-depth understanding of Options and Trading Strategies. At EPAT, he takes the participants through a detailed understanding of the systems & performance benchmarking of various strategies.
Rajib is an active speaker at many renowned national and international platforms including premier B-Schools like IIM-Calcutta, and ISB Hyderabad and algorithmic trading conferences in Asia, America & Europe. He also takes Guest Lectures on "Quantitative and Algorithmic Trading" at IIM Ahmedabad as an elective course offered to second-year students of IIM-A's flagship PGP program (equivalent to MBA).
Hobbies
Solving Puzzle, Travelling, National Olympiad Finalist. He represented India in World Puzzle Championship thrice.
Dr. Robert Kissell
PhD, Economics, Fordham University, US
Master's in Applied Mathematics, Hofstra University, US
Master's degree in Business/Commerce, Stony Brook University, US
Bachelors in Applied Mathematics, Stony Brook University, US
Experience
Dr Robert Kissell is the President of the Kissell Research Group and has a rich professional experience of 25 years. He holds a PhD in Economics, a Masters in Applied Math and a Masters in Business Management and Policy and a Bachelor's in Applied Math and Statistics.
Specializing in financial and quantitative analysis, statistical modelling, and risk management, Dr Kissell is the global leader and industry expert in the electronic and algorithmic trading space. A well-known speaker, renowned author and expert having published numerous financial research papers, he is the Associate Editor for Institutional Investor Journals.
Dr Kissell is a Contributing Author at the CFA Institute, has been an Adjunct Professor at Cornell University, and currently is an Adjunct Professor at Fordham University and Baruch College, as well as an Assistant Professor at the Molloy College, School of Business.
He achieved the Best Paper Award in 2011 as well as in 2019. He was also awarded the Faculty Research Award, 2020-2021 by the Molloy College, School of Business.
Hobbies
Dr. Thomas Starke
PhD, Physics, 2000, Nottingham University, UK
Experience
Dr Thomas Starke has a PhD in Physics and works as CEO of AAAQuants, an Australia-based prop-trading and consultancy firm for automated trading systems.
He has previously worked at proprietary trading firms such as Vivienne Court, Genesis and Propex. As an engineer he has led strategic research projects for Rolls-Royce Plc (UK), was the co-founder of the microchip design company pSemi and held a senior research fellow position at Oxford University.
Dr Starke has developed HFT strategies, tail-risk hedging options strategies and micro-alpha systems. He has done extensive research on machine-learning-based pricing models and AI-based trading systems.
Dr Starke has developed HFT strategies, tail-risk hedging options strategies and micro-alpha systems. He has done extensive research on machine-learning-based pricing models and AI-based trading systems. Dr Starke likes teaching and has lectured on computer simulation at Oxford University and is very active in the quantitative trading community. He frequently conducts workshops and presentations on algorithmic trading around the world, runs a Youtube channel and created 10+ online courses on systematic trading.
Dr Starke has authored 3 patents, and 20+ peer-reviewed research papers with over 400 citations. He has also been a presenter at over 100 international conferences.
Hobbies
Has a keen interest in new technologies such as quantum computing and blockchain. In his spare time he organises a meetup group on algorithmic trading
Varun Pothula
Master of Science in Financial Engineering, WorldQuant University (WQU)
Bachelor's in Mechanical Engineering, Vellore Institute of Technology
Experience
Varun Pothula possesses an extensive experience in the field of quantitative finance. With a Master's degree in Financial Engineering, he has excelled as a trader, global macro analyst, and algo trading strategist. Currently, Varun holds the position of Quantitative Analyst in the Content & Research Team at QuantInsti, where his valuable contributions aid in the development of comprehensive educational offerings tailored to the algorithmic and quantitative trading domain.
Hobbies
Vivek Krishnamoorthy
MBA (Finance), Nanyang Technological University, Singapore
B.E. - Electronics and Telecom, VESIT, Mumbai University
Graduate Certificate in Public Policy (GCPP), The Takshashila Institution
Experience
Vivek Krishnamoorthy has straddled the worlds of industry and academia. Previously, he worked as a credit analyst in Corporate & Institutional Banking with ICICI Bank in Singapore and India. At EPAT, Vivek helps the participants learn to backtest trading strategies in Python, and time series modelling.
Vivek has also worked as an assistant professor of finance at SIBM, Pune. He has conducted numerous corporate training sessions for mid and senior-level executives in corporate finance, financial modelling, and portfolio theory at Larsen & Toubro, Credit Suisse, and other organizations.
When he was a research scholar at McMaster University, Canada, he taught economics and finance courses to undergraduate and graduate students there. He is the co-author of the books, "Python Basics: With illustrations from the financial markets (2019)" and "A rough-and-ready guide to algorithmic trading (2020)".
He has a Bachelor's in Electronics & Telecom Engineering from VESIT (Mumbai University) and an MBA from Nanyang Technological University (NTU), Singapore.
Hobbies
Voracious reader (interested in Economics, Politics, History, Philosophy, Public Policy), Watching TV Series, Running, Trekking, Trying different cuisines.
Dr. Yves J. Hilpisch
Graduate in Business Administration and a Dr.rer.pol. in Mathematical Finance from Universität des Saarlandes
Experience
Dr Yves J. Hilpisch is the founder and the CEO of The Python Quants, a group focusing on the use of open-source technologies for financial data science, artificial intelligence, algorithmic trading and computational finance. He is also the founder and CEO of The AI Machine, a company focused on AI-powered algorithmic trading based on a proprietary strategy execution platform.
He is an expert in Python & Mathematical Finance and covers topics related to Python coding & strategy backtesting. At EPAT, Dr Yves lectures on computational finance, machine learning, and algorithmic trading. He also covers Object-Oriented Programming concepts in Python. He is the originator of the financial analytics library DX Analytics and has also given keynote speeches at technology conferences in the United States, Europe and Asia.
He is the author of the books Python for Algorithmic Trading (2020, O'Reilly), Artificial Intelligence in Finance (2020, O'Reilly), Python for Finance (2018, 2nd ed., O'Reilly), Listed Volatility and Variance Derivatives (2017, Wiley Finance) and Derivatives Analytics with Python (2015, Wiley Finance).
He is also an Adjunct Professor of Computational Finance at the University of Miami Business School in Miami, USA.
Hobbies
Mixed Martial Arts, Running