Certification
90+ placement tie ups with EPAT™ certification
Training
Algo & Quant courses authored by industry experts
Platform
Proprietary trading platform available for backtesting
Algo Traders
Trained participants have set up their own trading desks
Events
Research innovations contributed in industry and academic events
Resources
Free courses, blogs, models, training material and more!
I am starting an Algorithmic and High-Frequency desk later on, so for me the best (part) was to get the actual experience and the knowledge on how to implement the strategies that would be useful.
Aris Skliros
Co-Founder at Linker Coin, Greece
our people
Founders & Directors
Advisors
Afrin Siddiqui
Assistant Manager - International Sales
Talks like a kitten, works like a beaver and when dealing with a challenge she roars like a Tigress!!!
Ajit Chandani
Head - Customer Relationship
Make the customer the hero of your story.
Akil Tinwala
Head - Domestic Sales
A smart salesperson listens to emotions not facts.
Ashish Garg
Senior Analyst - Content
Miles to write before I sleep
Dhiraj Yashwantrao
Manager - Customer Relationship
Believes in "Kind words can be short and easy to speak, but their echoes are truly endless."
Dhrumin Vora
Head - Finance
Provisions peddler & reserved reconciler - The Money Man.
Dionne D'Souza
Assistant Manager - Customer Relationship
Taking customer service to a whole new level of Customer Obsession! :)
Ekta Shinde
Manager - Human Resources
Helping achievers soar!
G. Varun Divakar
Head - Quantra Content
An investment in knowledge pays the best interest.
Ishan Shah
Associate - Content Development
It is the supreme art of the teacher to awaken joy in creative expression and knowledge ~ Albert Einstein.
Jay Bipinchandra Vyas
Illustrator & Video Editor
Its not important what we do,Important is why we do it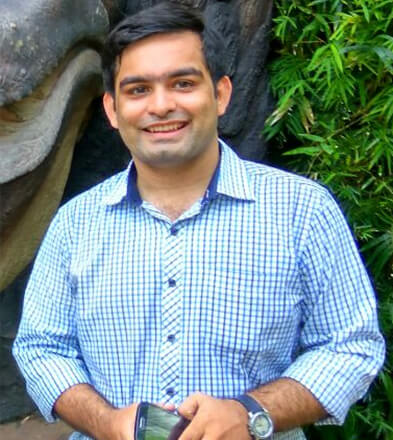 Jay Parmar
Teaching Assistant
Develop a passion for learning. If you do, you will never cease to grow.
Jumana Lokhandwala
Assistant Manager - Placement
I don't believe in miracles, I believe in making things happen through smart work and place people where they belong!!
Kamnee Maran
Senior Analyst - Technology
It's kind of fun to code the impossible.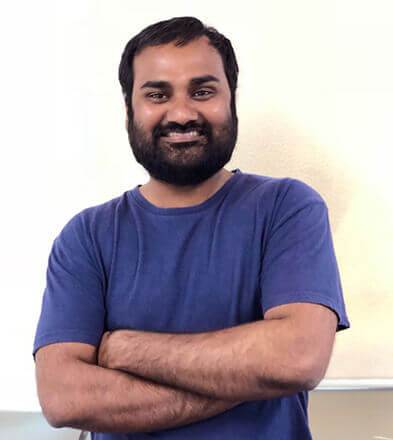 Kshitij Maurya
Head - Digital Marketing
If you're a good marketing person, you have to be a little crazy. ~ Jim Metcalf.
Laxmi Rawat
Assistant Manager - Customer Relationship
Customers don't expect you to be perfect. They DO expect you to fix things when they go wrong.
Mandar Dhasal
Analyst - Technology
It's all about 90% thinking and 10% coding.
Nikita Gandhi
Assistant Manager - Finance
Watches QuantInsti's finances like a hawk.
Niraj R. Nachane
Assistant Manager - Customer Relationship
The best way to find yourself is to lose yourself in the service of others.
Niraja Pullagoru
Analyst - Quality Assurance
Quality in a service or product is not what you put into it, it is what the customer gets out of it.
Nisha Singh
Senior Manager - Human Resources
Today's talent. Tomorrow's success.
Nitin Vishwakarma
Manager - Digital Marketing
If you aim at nothing, you will hit it every time.
Paresh Ramtekkar
Video Editor & Illustrator
Design is not just what it looks like and feels like. Design is how it works.
Pawan Kumar Bhandari
System Administrator
The Hardware Czar!
Pawan Mer
Assistant Manager - International Sales
We Don't Sell a Service; We Sell an Experience.
Pranav Anand
Senior Analyst - Technology
Computers do not solve problems, they execute solutions.
Prashant Gurjar
Assistant Manager - International Sales
In Sales, You Let the Prospect Talk 80% of the Time and You Talk the Other 20%.
Prathamesh Salvi
Illustrator & Video Editor
I'm passionate towards Animation and Multimedia. I Love to Travel and like to Try new cuisines.
Prodipta Ghosh
Vice President - Product
Prodipta leads the entire financial product & services domain at QuantInsti
Rahul Nair
Assistant Manager - Customer Relationship
Our attitude towards customers determines their attitude towards us.
Rakesh Poojary
Manager - SEO
Hey fresh content, prepare to be crawled!
Rashmi Shah
Manager - Sales
To take "stock" of the bulls and bears, "share" with us your contact details, and we will help you gain "equity" on the merits of this programme.
Rekhit Pachanekar
Assistant Manager - Content Marketing
"If my doctor told me I had only six minutes to live, I wouldn't brood. I'd type a little faster." - Isaac Asimov
Rohan Mathews
Head - International Sales
Make a customer, not a sale. ~ Katherine Barchetti
Sachin Patil
Senior Analyst - Quality Assurance
Quality is never an accident. It is always the result of intelligent effort.
Sandeep Bhoir
Assistant Manager - Administration
Admin professional: The Ultimate Wingman!
Sandip Londhe
Video Editor & Illustrator
Design is a plan for arranging elements in such a way as best to accomplish a particular purpose.
Sekhar Choudhury
Assistant Manager - Digital Marketing
If not today, then never.
Shagufta Tahsildar
Assistant Manager - Content Marketing
The art of writing is the art of discovering what you believe and understand - Gustave Flaubert
Shikha Tiwari
Manager - Sales
The fierce one, always stomping on eggshells that everyone else tiptoes on. Strong Heart. Brave Spirit. Patient Mind.
Shivangi Pathak
Head - Human Resources
Hire for the Attitude... Train for the Skills and you've got yourself a complete package!
Shriyam Sunil
Assistant Manager - Human Resources
Shapes the future by seeking the Best Talent for QuantInsti!
Slomy Vohra
Senior Manager - Sales
Confidence and enthusiasm are greatest sales producers in any kind of economy.
Smiti Khandelwal
Head - Product, EPAT
The Product wizard for EPAT. When not improving EPAT experience, she's trying to read about it in the fiction books.
Subash Kasivel
Assistant Manager - Customer Relationship
Customer Service: It is plugged in.
Swapna Tandel
Manager - Corporate Relations
Connect with her to seek the best career advice!
Utsav Kesharwani
Assistant Vice President - Technology
First, solve the problem. Then, write the code.
Vibhu Singh
Associate - Content
To be momentous, create content with purpose.
Viraj Bhagat
Assistant Manager - Content Marketing
A Digital Marketing Jedi camouflaged in a Human attire and connected with the Force.
Vivek Krishnamoorthy
Senior Faculty and Research Lead
There's nothing I enjoy more than learning. And figured the best way to keep doing that and staying gainfully employed is by being in academics! :)
milestones
2010
Founded in October, 2010
2011
Workshops & more batches
2012
Launch of Online Classroom
2015
Distinguished Advisory Board
2017
Collaborations & Reach
2018
Accelerating Value for Users
Founded in October, 2010
Started the first algorithmic trading training program in India – EPAT™ (Executive Program in Algorithmic Trading)
First batch of EPAT™ students started their journey in Quant and Algo trading.
Organized two workshops on Algorithmic Trading in collaboration with Thomson Reuters
Successfully completed 5 more batches with students from different profiles including manual traders, equity analyst, algo traders, engineers, commerce students.
Started Online Classroom Programme.
Started a new centre in Goregaon, Mumbai, India.
Conducted sessions in leading exchanges, management schools and technological institutes in India.
Speakers at

FIX protocol conference, Mumbai
Algorithmic Trading conference organized by CMU-Princeton in Chicago.

More than 15 batches finished since launch.
QuantInsti subsidiary opened in Singapore.
Speakers at

Workshop on Options Trading Techniques conducted by Stock Exchange of Thailand (SET)
National Stock Exchange's (NSE) Management Development Programmes (MDP) in Algorithmic Trading across cities of Mumbai, Chennai, Kochi in India
"4th Annual Conference: Behavioural Models & Sentiment Analysis Applied to Finance" conducted in London
Prof. Gautam Mitra and Dr. Ernest P. Chan joined the Advisory Board.
EPAT™ re-launched app-friendly learning platform for mobile education.
Invited to speak at

Palm and Lauric Oils Price Outlook Conference & Exhibition (POC) in Malaysia
SGX-India chapter in AFACT in Singapore
"The Trading Show" in Chicago
The round table discussion held by the Finance and Research Group (FRG) of Indira Gandhi Institute of Development Research (IGIDR)
An educational event with Goldman Sachs Asset Management team in Mumbai.
Quantra launched as the leading self-paced interactive learning platform in the algorithmic & quantitative trading domain.
Launched joint courses with MCX – leading exchange for commodities trading in India.
New faculty members join as EPAT™ trainers: Dr. Yves Hilpisch, Dr. Ernest P. Chan, Dr. Hui Liu and RadhaKrishna Pendyala.
Hosted 10+ webinars, including the ones in collaboration with Interactive Brokers & Zerodha, benefitting audience from 100+ countries.
Launched joint certification courses with NSE (National Stock Exchange) Academy.
Expanded reach to 500,000+ users across 190+ countries.
Leading NBFCs in the education sector starts offering financial assistance for EPAT™ participants in India.
Launched Quantra Blueshift for US, India and FX Markets.
Lifelong content access to all EPAT™ alumni.
90+ placement partners.
Exclusive community launched for all EPAT™ alumni.
EPAT™ programme recognized under the Financial Training Scheme (FTS) of Institute of Banking and Finance (IBF is the national accreditation and certification agency for financial industry competency in Singapore).