programme benefits
Expert Faculty
An acclaimed team of subject matter experts
Dedicated Support
A Support Manager for each EPATian
Career Services
Lifetime placement and career assistance
programme features
Scholarships and Financial Aid
Lifetime access to latest course content
Exclusive EPAT Community benefits
Credit Points for continuous professional development
PLACEMENT PARTNERS
Faculty Members
Anil Yadav
Anil Yadav is a member of the algo strategy advisory team at iRageCapital and is responsible for building and benchmarking strategies for the clients across various asset classes. Prior to iRage, Anil has worked as an independent commodities trader managing a portfolio of metals and energy products.
Brian Christopher
Brian is a Quantitative researcher, Python developer, CFA charter holder, and the founder of Blackarbs LLC, a quantitative research firm. He attained a BSc in Economics from North-eastern University in Boston, MA and received the Chartered Financial Analyst (CFA) designation in 2016.
Dr. Ankur Sinha
Dr. Sinha is associated with IIM Ahmedabad, India as a faculty as well as heading various departments. He has taught at Aalto University School of Business, Finland & Michigan State University, United States. He holds a PhD in Business Technology from Aalto University School of Business, Helsinki, Finland, and has done Mechanical Engineering from IIT Kanpur, India.
Dr. Ernest P. Chan
Ernie is the Managing Member of QTS Capital Management, LLC. He is also the Founder and CEO of PredictNow.ai. He has authored multiple books, teaches courses and conducts workshops in trading and finance in Australia, Canada, Singapore, the United Kingdom, and the United States.
Dr. Euan Sinclair
Dr. Euan has more than 2 decades of Options trading experience. He's currently the partner at Talton Capital Management, a volatility trading fund. He holds a Ph.D. in theoretical physics from the University of Bristol and has written two books, "Volatility Trading" and "Option Trading", both published by Wiley, as well as numerous papers and articles.
Dr. Gaurav Raizada
Dr. Gaurav is a Director at iRage Capital Advisory Pvt Ltd, the Chief Investment Officer for iRage Master Trust Investment Managers LLP and a Designated Partner for iRage Broking LLP. He has consulted extensively with core focus on strategy development and execution, including trading systems development, optimization and transaction cost analysis.
Dr. Hui Liu
Dr. Liu is the author of IBridgePy and founder of Running River Investment LLC. His major trading interests are US equities and Forex market. Running River Investment LLC is a private hedge fund specialized in the development of automated trading strategies using Python.
Dr. Robert Kissell
Dr. Kissell is a global leader and industry expert with top management experience spanning 25+ years at some of the largest financial institutions like UBS, JP Morgan, and Citigroup. He teaches/taught at Fordham University, Molloy College, Baruch College and Cornell University. He is an international speaker and author of 4 books and countless financial research papers.
Ishan Shah
Ishan has done B.E. Information Technology from D J Sanghvi College of Engineering and PGDBM from Sydenham Institute of Management. He has a rich experience in financial markets spanning across various asset classes in different roles. He works with Quantra® content development team and has prior experience in Barclays, Bank of America Merrill Lynch and RBT Algo Systems
Nitesh Khandelwal
Nitesh has a rich experience in financial markets spanning across various asset classes in different roles. He is also the Co-founder of iRageCapital Advisory Pvt Ltd and QuantInsti Quantitative Learning Pvt Ltd. At QuantInsti® he leads the overall business & is in-charge of new initiatives & ventures by QuantInsti®.
Nitin Aggarwal
Nitin is the Founder and CEO of Alphom Advisory Pvt. Ltd. (a trading firm), prior to which he has led the Operations team in Pentagon Advisory, has been a quant at iRageCapital and a Leadership Associate with the Aditya Birla Group. His gamut of experience ranges from developing novel breakthrough chemical technologies to creating proprietary trading strategies.
Prodipta Ghosh
Before joining QuantInsti as Vice President, Prodipta spent more than a decade in the banking industry – in various roles across trading and structuring desks for Deutsche Bank in Mumbai & London, and as a corporate banker with Standard Chartered Bank. Prior to that, Prodipta worked as a scientist in India's Defence R&D Organization (DRDO).
Rajib Ranjan Borah
Rajib is the Co-founder & Director of iRageCapital Advisory Pvt Ltd & QuantInsti Quantitative Learning Pvt Ltd. He has conducted workshops in the United States, Europe and Asia and is a visiting faculty in finance & accounting department for the flagship MBA program at IIM-A, one of the globally leading B-School.
Dr. Thomas Starke
Tom is the CEO of AAAQuants and the co-founder of pSemi. With a remarkable career spanning working with Vivienne Court, Memjet Australia, and Rolls-Royce Plc (UK), he has conducted workshops and presentations on algorithmic trading around the world. A PhD Physics degree holder, he was a senior research fellow at Oxford University.
Vivek Krishnamoorthy
Vivek has a Bachelors' in Engineering, an MBA, and a Graduate Certificate in Public Policy. He is also an aspiring actuary and has cleared six papers of the Institute of Actuaries (and was a country topper in one of them). He has over 12 years of experience across India, Singapore and Canada in industry, academia and research.
Dr. Yves J. Hilpisch
Dr. Yves Hilpisch is an expert in Python & Mathematical Finance and covers topics related to Python coding & strategy backtesting. He also covers Object-Oriented Programming concepts in Python. Yves is the founder and the CEO of The Python Quants as well as The AI Machine. He is also an Adjunct Professor for Computational Finance—Miami, USA & Riga, Latvia.
Curriculum
Basics of Algorithmic Trading: Know and understand the terminology
Excel: Basics of MS Excel, available functions and many examples to give you a good introduction to the basics
Basics of Python: Installation, basic functions, interactive exercises, and Python Notebook
Options: Terminology, options pricing basic, Greeks and simple option trading strategies
Basic Statistics including Probability Distributions
MATLAB: Tutorial to get an hands-on on MATLAB
Introduction to Machine Learning: Basics of Machine Learning for trading and implement different machine learning algorithms to trade in financial markets
Two preparatory sessions will be conducted to answer queries and resolve doubts on Statistics Primer and Python Primer
2
Statistics for Financial Markets
Data Visualization: Statistics and probability concepts (Bayesian and Frequentist methodologies), moments of data and Central Limit Theorem
Applications of statistics: Random Walk Model for predicting future stock prices using simulations and inferring outcomes, Capital Asset Pricing Model
Modern Portfolio Theory - statistical approximations of risk/reward
3
Python: Basics & Its Quant Ecosystem
Data types, variables, Python in-built data structures, inbuilt functions, logical operators, and control structures
Introduction to some key libraries NumPy, pandas, and matplotlib
Python concepts for writing functions and implementing strategies
Writing and backtesting trading strategies
Two Python tutorials will be conducted to answer queries and resolve doubts on Python
4
Market Microstructure for Trading
Overview of Electronic and Algorithmic Trading.
Various order types, order book dynamics, Spoofing, Price Time Priority Algorithm and Guerilla Algorithm.
Execution strategy to trade large volumes.
The algorithmic trading process from a market microstructure perspective.
5
Equity, FX, & Futures Strategies
Understanding of Equities Derivative market
VWAP strategy: Implementation, effect of VWAP, maintaining log journal
Different types of Momentum (Time series & Cross-sectional)
Trend following strategies and Statistical Arbitrage Trading strategy modeling with Python
Arbitrage, market making and asset allocation strategies using ETFs
6
Data Analysis & Modeling in Python
Implement various OOP concepts in python program - Aggregation, Inheritance, Composition, Encapsulation, and Polymorphism
Back-testing methodologies & techniques and using Random Walk Hypothesis
Quantitative analysis using Python: Compute statistical parameters, perform regression analysis, understanding VaR
Work on sample strategies, trade the Boring Consumer Stocks in Python
Two tutorials will be conducted after the initial two lectures to answer queries and resolve doubts about Data Analysis and Modeling in Python
7
Machine Learning for Trading
Decision Trees, Support Vector Machine, Neural Networks, Forward propagation, Backward propagation, Various neural network architectures.
Building a "Principal Component Analysis" manually, conducting a pairs-trading back-test using PCA, Simulation of multiple co-integrated assets, and Sector statistical arbitrage using PCA.
Using Python and Jupyter notebooks to create features, evaluate models, use feature selection and test raw performance.
Overview of Alternate Data: Sources, data formats, storage and retrieval choices, Understanding RDF and Knowledge Graph, Tagging Unstructured Data with relevant metadata.
Using spaCy for common Text processing tasks, Understanding Topic Modeling and Topic Classification.
Understanding Machine Readable News Programmatic consumption of news.
Machine Readable News in the Financial Industry: Sample in Production use cases, Sentiment Data in the Financial Industry: Sample in Production use cases.
Basic ideas of deep reinforcement learning such as reward, explore/exploit, Bellman equation and memory replay.
Challenges and problems with RL in trading, Implementation of RL in a simple strategy using "gamification".
8
Trading Tech, Infra & Operations
System Architecture of an automated trading system
Infrastructure (hardware, physical, network, etc.) requirements
Understanding the business environment (including regulatory environment, financials, business insights, etc.) for setting up an Algorithmic Trading desk
9
Advanced Statistics for Quant Strategies
Time series analysis and statistical functions including autocorrelation function, partial autocorrelation function, maximum likelihood estimation, Akaike Information Criterion
Stationarity of time series, Autoregressive Process, Forecasting using ARIMA
Difference between ARCH and GARCH and Understanding volatility
10
Trading & Back-testing Platforms
Introduction to Interactive Brokers platform and Blueshift
Code and back-test different strategies on various platforms
Using IBridgePy API to automate your trading strategies on Interactive Brokers platform
Interactive Brokers Python API
11
Portfolio Optimization & Risk Management
Different methodologies of evaluating portfolio & strategy performance
Risk Management: Sources of risk, risk limits, risk evaluation & mitigation, risk control systems
Trade sizing for individual trading strategy using conventional methodologies, Kelly criterion, Leverage space theorem
12
Options Trading & Strategies
Options Pricing Models: Conceptual understanding and application to different strategies & asset classes
Option Greeks: Characteristics & Greeks based trading strategies
Implied volatility, smile, skew and forward volatility
Sensitivity analysis of options portfolio with risk management tools
Self-study project work under mentorship of a domain/expert
Project topic qualifies for area of specialization and enhanced learning
EPAT exam is conducted at proctored centers in 80+ countries
Certificate
This programme has been accredited by The Institute of Banking and Finance (IBF, Singapore) under the IBF Standards. IBF-STS provides upto 50% funding for direct training costs subject to a cap of S$ 3,000 per candidate per programme subject to all eligibility criteria being met. This is applicable to Singapore Citizens or Singapore Permanent Residents, physically based in Singapore. Find out more on www.ibf.org.sg
EPAT is accredited by CPD, UK (Continuing Professional Development, UK)
QuantInsti has registered this program with GARP for Continuing Professional Development (CPD) credits. Attending this program qualifies for 30 GARP CPD credit hours. If you are a Certified Financial Risk Manager (FRM®), or Energy Risk Professional (ERP®), please record this activity in your Credit Tracker.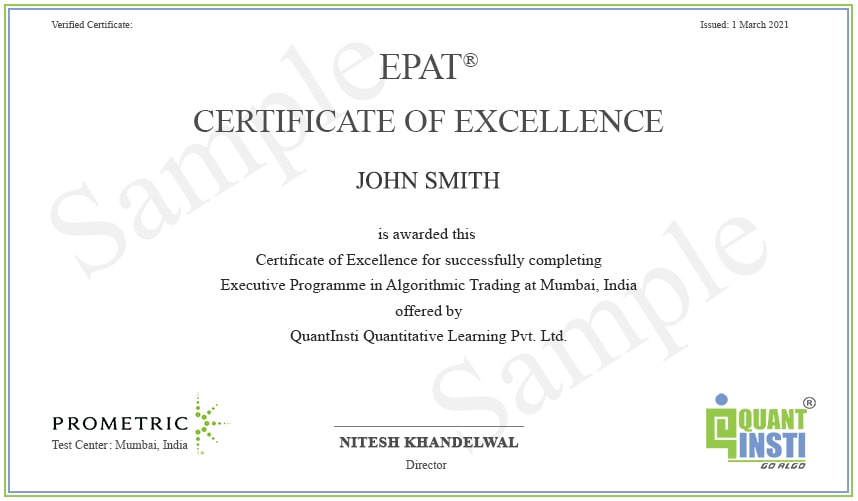 Click to zoom
STUDENT TESTIMONIALS
Andriy Vasiliev
Trading Business Consultant, Ukraine
The knowledge and skills imparted by the highly experienced mentors and the extremely supportive staff made my learning process at EPAT amazing. I apply the knowledge and key programming skills everyday!
Chris Mayhead
COEX Futures & Options Execution at TP ICAP, United Kingdom
EPAT not only refreshed my knowledge but also helped me build new skills essential to the domain of Algo Trading. It would have been unlikely & definitely tougher to build on the foundations and take my learning to the next level if not for EPAT. The time spent at EPAT was well worth it.
Guillermina Amorin
Team Leader at Rosental Inversiones, Argentina
I've learnt a lot by making my own algorithms, programming my Trading Strategies and applying Statistical Arbitrage in my Project. I'm happy to achieve the EPAT certificate which empowers me to follow my passion for trading.
Kishan Modi
Sr. Data Scientist at Corridor Platforms, India
EPAT is a commendable course with a great curriculum and a special focus on practical knowledge. The assistance from the Support Team helped me complete the course while balancing my professional life!
Md Ali Zishan
Vice President at Fullerton India Credit Company Ltd., India
As an aspiring algorithmic trader, choosing EPAT was the best decision that I ever made. EPAT is one of its kind platform that grooms and equips you towards a successful algo trading based career. I would like to thank all the faculty members who helped me throughout my EPAT journey to acquire invaluable knowledge.
Rachel Tan
Vice President, J.P. Morgan, Singapore
With a comprehensive syllabus, EPAT is suitable for working professionals and is flexible for busy executives. QuantInsti being a very good education provider in algorithmic trading provides responsive and helpful support as well. Highly recommended.
Revati Pathak
Analyst at Bank of America, India
A very well structured and thorough course, EPAT covered the various areas required to get started with Algo trading. Knowledgeable faculty and a supportive and responsive Quantinsti team made it a smooth experience.
Artur Barreiros
Prof. at Instituto Superior Técnico, Portugal
I loved this course because it contributed significantly to broadening my horizons about the decision making process on financial investments. It is a demanding course in terms of work and dedication, but because we are exposed to the most advanced knowledge that exists in this area.
Zheng Zuo
Quantitative Trader, China
The instructors and guest speakers at EPAT are truly world-class. The support is very responsive and helpful. EPAT acts as the perfect bridge for the journey from a amateur traders to becoming professional quant. Highly recommended!
Panashe Chiurunge
Group Chief Technology Officer at CBZ Holdings, Zimbabwe
I was starting an Algorithmic and High-Frequency desk later on, so for me the best part was to get the actual experience and the knowledge to implement useful strategies for my own desks.
Kishan Patel
United States
I wanted to change my career from Engineering to Options Trading. I spent hours on the computer looking for a course which would help me, and I finally found it - EPAT. EPAT really helped me understand all the concepts that I would require to be a successful Options Trader.
Anto T
Sr. Manager, Network Application Profiling and Modelling at Capital One, United States
I am an IT Network engineer, who also do part time trading in Stocks, Options and Futures for the past 10 years. Automation was the key to take personal emotions out of trade altogether and Quantinsti was there to help to define the trade automation strategies and machine learning.
The EPAT programme provides the tools required to develop and implement algorithmic trading strategies. It covers all the required areas to implement them, right from statistics, python programming and software development to machine learning. Additionally, it allows us to review complex concepts and revisit all the content even after the programme finishes.
ADMISSION PROCESS
Get on a call
with a Counsellor
Pay the fee
and get started
Get on a call
with a Counsellor
Pay the fee
and get started
Before admission, we will facilitate a one-on-one counselling session that will focus on understanding the strengths and weaknesses of the participant. These sessions do not necessarily decide the participants' eligibility but help counsellors assist them with informed guidance prior to enrollment.
Fees
Entire course fee starting at $ 7,999
Scholarship and Financial Aid available for the deserving candidates
Schedule
We have four batches in a year. Duration of the programme is 6 months. The tentative programme start dates are:
| Batch | Start Date |
| --- | --- |
| 56 | 15 October, 2022 |
| 57 | 14 January, 2023 |